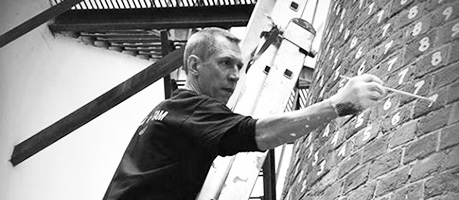 Graduated from the Leningrad Secondary Art School by B.Joganson (1980), from the Imperial Academy of Arts (The Repin Institute of Arts), Department of Painting by Prof. Evsei Moiseenko, (1989, Leningrad).
1989 Alexei Kostroma has joined the Union of Artists of Russia.
1991 founded the TUT-I-TAM Group with Nadezhda Bukreeva in Saint Petersburg;
developed the INVENTORY concept and numerated the natural objects and architectural monuments; developed the INTROSPECTIVE ACTIONS concept and organized the feathered projects with social environment.
Since the early 1990s he has formed his artistic worldview, THE ORGANIC WAY, where the central concept is a study of interrelations between natural and social laws. Later the artist gave the final definition to his concept: THE ORGANIC WAY IS A WAY OF KNOWING THE UNITY OF MEANINGS.
In the same years he has selected the favorite artistic signs: white feather, eggshell, lemon yellow pigment and figures; later these 4 signs become his brands.
In 1997-1999 he has worked on the reconstruction of monochords and the performance "The Birth of Light, Color and Volume" by
Mikhail Matyushin
under the guidance by
Alla Povelikhina
, researcher of Russian Avant-garde, for the Gmurzynska Gallery in Cologne, Germany.
In 2003 moved to Berlin. 2005 joined the Union of Artists of Germany.
2009 founded with his wife
Ekaterina Kondranina
STUDIO KOSTROMA in Berlin.
In 2017 concentrating all the diversity of his long-term creative work, Kostroma arrived at THE POINT, his concept of a central phenomenon that determines the end and beginning of all events and all phenomena.
Public collections
The Kandinsky Library, The Centre Pompidou, Paris
The Copelouzos Family Art Museum, Athens
Stedelijk Museum, Amsterdam
The State Hermitage Museum, Saint Petersburg
The State Russian Museum, Saint Petersburg
Tretyakov Gallery, Moscow
Multimedia Art Museum, Moscow
Museum of Organic Culture, Kolomna
The Kostroma State Museum of Fine Arts, Kostroma