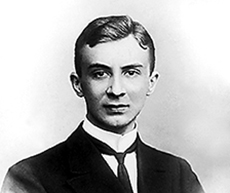 1893 - Born on January 23. 1903-1907 - took classes from Ivan Bilibin, a painter and illustrator of Russian fairy-tales. 1911 - met the artist and writer Elena Guro and was introduced to Mikhail Matyushin. 1914 - entered the Historical Department of Petersburg University. 1918 - attended State Free Artistic Workshops (the former Academy of Arts). For a short period of time attended
classes at K.S. Petrov-Vodkin's workshop and later continued his studies in Mikhail Matyushin's workshop. First experiments of 'abstruse' versification on
the model of Elena Guro, Velimir Khlebnikov and A. Kruchenykh.
1923 Experiments in the field of 'abstruse' versification. Met the poets A. Tufanov (1887-
1942 ), D. Kharms (1905-1942), A. Vvedensky (1904-1941) and I. Terentyev (1892-1941). 1923 -1926 - Senior scientific associate at the Organic Culture Department of State Institute of Art Culture. Made experiments in the laboratory of eyesight, hearing and sense of touch for researching the brain 's active centers during observation of colour-form (in cooperation with Mikhail Matyushin). Made about 20 reports devoted to the studies of colour-form in 'extended vision' in the Institute. Prepared articles: 'On Extra Color Perception' and 'Research into Spatial Brain Activity'. 1923 - First cycle of 'cubist' drawings on human body movements.
1924-1926 - Cooperation with the GEPTOKhOR ballet studio where he gave lectures on form and colour perception in conditions of 'extended vision'.
1924-1925 - Continued his work on landscape sketches based on the 'extended vision' principle contributing to his "Colours of Nature" series. Made experiments on observation of nature with 'tied eyes'.
1925 - together with Nikolai Suetin organized a display of the GINKhUK Institute's experimental research at the Moscow Historical Museum.
1926 - moved to Moscow.
1929-1930 - worked at the Tretyakov Gallery in designing the display of the latest Russian painting section and in the experimental-display laboratory.
1930-1935 - worked in the field of colour application in architecture, particularly
at Malyar-stroy with the German artist H. Scheper (Bauhaus) (1930-1931). 1936-1937 – took part in designing of the Soviet Pavilion at the World
Exposition in Paris in 1937. 1939 - took part in designing of the Soviet Pavilion at the World Exposition in New York.
1940-1941 – made a colour design of the exhibition held in commemoration of the centenary of Mikhail Lermontov's tragic death.
1944-1945 - one of the artistic supervisors of the Permanent All-Union Construction Exhibition.
1949 – made a design of the Soviet Pavilion at the industrial exhibition in Hungary. Made a trip to Budapest.
1956-1959 – an intensive painting period.
1960 - died on June 12