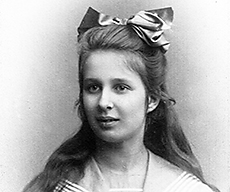 1918 Graduated from the Literature Studies Department of Pedagogical Institute.
1916 - Met the artist Mikhail Matyushin and studied painting, drawing and music under his guidance.
1918-1922 - Studied at Petrograd State Free Workshops (the former Academy of Arts) under Matyushin's guidance (the " spatial realism" workshop).
1923-1926 - employed as a scientific associate of the Organic Culture Department at State Institute of Artistic Cuture. Headed the department of application of colour-form peripheral comprehension. Workd in the laboratory of eyesight, hearing and sense of touch carrying out researches of color-form in space.
Conducted independent research in colour characteristics (interval, tonality, overtone).
1922-1924 - made 24 reports at meetings of the Organic Culture Department and prepared scientific papers for publishing.
1927-28 - prepared articles 'Colour and Colour Combination', 'On an Additional Form', 'Space and Form' and others. Late 1920s-1940s - worked as a consultant for painting buildings in Leningrad (railway stations, Houses of Culture, etc.). Worked at the Institute of Brain on the problem of comprehension of colourform, taught chromatics at State Artistic-Industrial Technical School, taught "Colour" science at the Painting Department of Institute of Proletarian Decorative Arts (the former Academy of Arts).
1932 – actively participated together with M.Matyushin in preparing 'Colour Reference Book' that included her own article. Took part in designing of the Soviet Pavilion at the World Exposition in Paris in
1937 and at the World Exposition in New York in 1939.
1940 - Contributed to the colour design of several pavilions at the All-Union Agricultural Exhibition.
1942 - Died in Leningrad during the wartime siege and was buried in a common grave