This article is translated by machine translation, may contain semantic, syntactic and / or grammatical errors..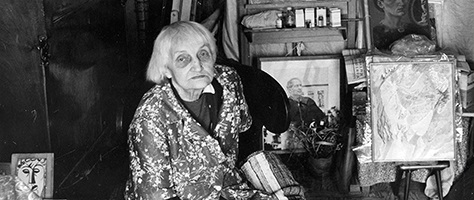 1924-1925 - began to study painting art systematically in A.I. Savinov's private studio. Prepared to enter the Academy of Fine Arts.
1925 - met Pavel Filonov. In 1926-1932 worked in Filonov's studio. Member of the «Masters of Analytical Art» (MAA). Participated in the MAA group exhibition
in the Printing House in 1927.
1928-1940 - worked in the magazines «Yozh (Hedgehog)» (since 1928) and «Chizh (Siskin)» (since 1931). Illustrated D. Kharms and A. Vvedensky's poems.
1930-1931 - participated in the exhibition of Soviet artists in France (Paris, Lyon).

1932 - participated in the MAA members' joint design of «Kalevala» book commissioned by the publishing house «Academia».
1941-1942 - lived in the besieged Leningrad.
1942-1945 - as evacuated to Alma-Ata. Worked at the studio «Kazakhfilm» (costume outlines).
1945 - together with Sterligov returned to Leningrad.
The early 1960 - together with Sterligov started developing the new principles of painting bowl-dome space structures. January 31, 1970 - a one-day exhibition together with Sterligov in Scientific
Research Institute of Theory and History of Architecture in Moscow.
Theoretical evening meeting «On Straight and Curve.»
October 22, 1970 - exhibition together with Sterligov in Moscow State Museum of Fine Arts (Engraving Office). Glebova's first solo exhibition in her workshop
was held in 1970.
1974 – 1985 - continued to work with Sterligov's students at the development of his ideas forming her own painting principles.
1981 - personal exhibition in Leningrad.
1985 - died on March 4 in Leningrad. Buried at the Peterhof cemetery.