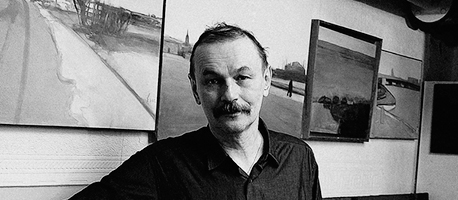 Born in Leningrad in a family of geologists. 1977 - graduated from the Faculty of Geology of LSU. From 1974 to 1977, attended courses at LVHPU named
afte V.I. Mukhin, and those at Institute of Painting, Sculpture and Architecture (INZHSA) named after I.Ye. Repin. Since 1978 – a participant of exhibitions.
Since 1983 - a member of Association of Experimental Pictorial Art (TEII).1985 - Shinkarev's book «Mit'ki" initiated «Mit'ki» movement in Leningrad (a founding
member of the «Mit'ki" group). Since 1993 - a member of St. Petersburg Society «A – Ya (From A to Z)».
1997-99 - produced sixteen paintings of various famous and lesser-known books; he called this project «World Literature.» Among the books he chose were «The Iliad» by Homer, «The Divine Comedy» by Dante, «The Sorrows of Young Werther» by Goethe, «Eugeny Onegin» by Pushkin, «Transformation» by Kafka, «Cavalry» by Babel, and the «Christmas tree» song. 2008 – got an award named after Joseph Brodsky.