The Museum's courtyard
In the MOC is the constant development of space patio. Every year new exhibition projects take place, pavilions are created, the territory is improved and new art objects are placed. The pavilion system for the presentation of exhibitions gives curators the opportunity in each of them to present a separate topic, but at the same time organically combine and continue the basic concept of the museum.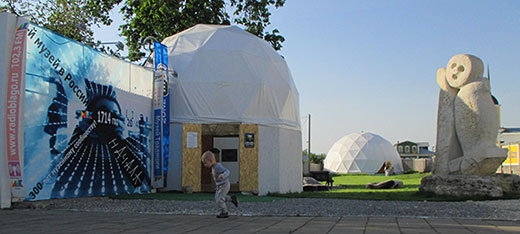 In 2015, in the open-air museum courtyard, there are pavilions "Art Refrigerator", the Big Dome, the Small Dome, a pneumatic design "The Caterpillar", the sculpture "Equilibrium" by Dmitry Verdiyanu, the art object "Spatial Bells" and "Ovalo" by Vyacheslav Koleichuk.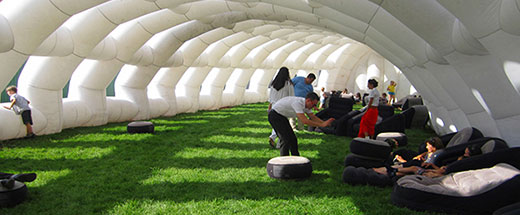 Pneumatic "Caterpillar". 2012 - 2014 years. Space for relaxation and the emergence of new ideas.

Dmitry Medvedev in the pavilion "Art-fridge". Exposition: "A look at the Sun", Alexey Kostroma. 2011

Pavilion "Art refrigerator". year 2012. Op-art "Cyclicity of time", Arina Lin.

Pavilion "Art refrigerator". 2011. Installation "Avant-garde and tradition." Fragment of clothes from the collection for folk motives - Denis Simachev. "Russian Grandmas" - Anastasia Khoroshilova photo. Part of the fence of the peasant hut. Tree. The painting. Vologodskaya Oblast.

Pavilion "Art refrigerator". year 2012. Art object "Leonardo's Glass". year 2012.

Pavilion "Big Dome". year 2013. The exhibition "East and West. Great Silk Road. Photos - Alexander and Vera Dzhus, earthen painting - S. Bondin, HSP map –MOC project, art object "Mobius", musical instrument "Ovalo" - Vyacheslav Koleichuk. year 2014. "Children's dreams with Pyotr Lovygin" photo exhibition.
2015 Alexey Kostroma. Form of macro and micro world. Inflatable ball, plastic.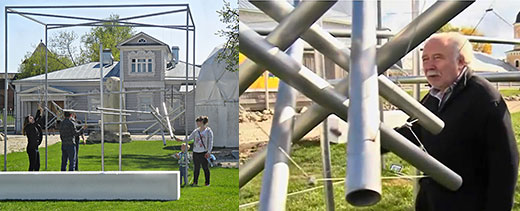 The art object "Spatial bells" by Vyacheslav Koleichuk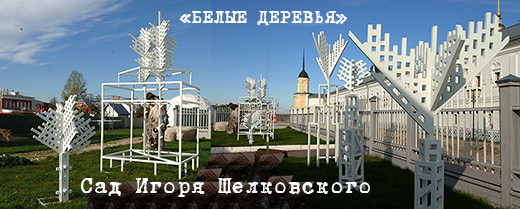 "White trees". Igor Shelkovsky's garden

Pavel Brother. The Revolt of the Masses. 2012. Paper, metal, d 32 cm.