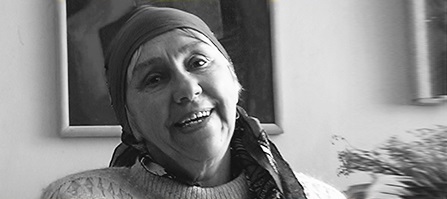 1957 – graduated from the Graphic Department of the Institute of Painting, Sculpture and Architecture named after I.Ye.Repin. Worked in the field of graphics and book illustrations. 1963 – began practicing under the V. Sterligov's supervision. Lives and works in St. Petersburg. A member of the Russian Union of Artists, IFA, the "Free Culture" Association, the "17 April" art association. Honored Artist of Russia.
Works are in the collections:
The StateTretiakov Gallery, Moscow; The State Russian Museum, St. Petersburg; The State Museum of the History of St. Petersburg; The State Museum of City Sculpture, St.
Petersburg; The Museum of NonConformism, St. Petersburg; Russian National Library, St. Petersburg; The Museum of Organic Culture, Kolomna, Russia; The Yaroslavl Art Museum; Perm regional Art Gallery; The Tver Regional Picture Gallery; The State Kirov Regional Art Museum named after V.M and A.M. Vasnetsov; City Museum of Fairy Tales, Minden, Germany; Museum of Childhood in Edinburgh, Scotland; and in private collections in Moscow, St. Petersburg, Germany, France, Denmark, Finland, and Spain.