This article is translated by machine translation, may contain semantic, syntactic and / or grammatical errors..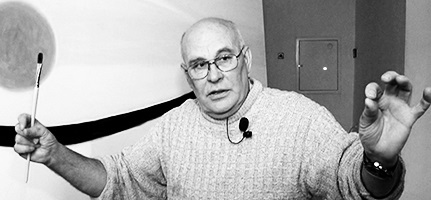 1962 – 1968 – studied in Art-Graphic Faculty of Leningrad Pedagogical Institute named after A.I. Herzen.
1963-1973 - met V. Sterligov and studied under his supervision.
1995 – establishing of an experimental art-research group «FORM + COLOR.»
1998 - establishing of artistic association «April 17».
Lives and works in St. Petersburg.
The artist's works are in the collections of:
State Russian Museum, Saint Petersburg; Pushkin Museum of Fine Arts, Moscow; State Museum of the History of Saint Petersburg, Saint Petersburg; Jane Voorhees Zimmerli Museum, New Brunswick, New Jersey; the Museum of Organic Culture, Kolomna, Russia; Museum of Nonconformist Art, Saint Petersburg; Yaroslavl Art Museum; Republic of Karelia Fine Arts Museum, Petrozavodsk; Tomsk Regional Art Museum; Kemerovo Regional Fine Arts Museum; Novosibirsk State Picture Gallery; Arkhangelsk Art Museum; Checkpoint Charlie Museum, Berlin; Kasteyev State Arts Museum of the Republic of Kazkhstan, Almaty; Kirov Regional Art Museum; Directorate of the Leningrad Regional Museums Association, Saint Petersburg; Perm Slate Art Gallery; National Art Gallery, Yoshkar-Ola, Mori El Republic (Russia); Republic of Tatarstan Fine Arts Museum, Kazan; Norton and Nancy Dodge, Mechanicsville; Maryland Mr. Lambsdorff, Berlin; Norbert and Katja Kuchinke, Bonn, Germany; Irina and Viktor Ksendzov, Saint Petersburg; Galina Volkova and Anatoly Sidorov, Saint Petersburg; Isaak Kushnir, Saint Petersburg; S.P.A.S. Gallery, Saint Petersburg; Vladimir Antoniichuk, Moscow; Sabina and Karl Shlue, Frankfurt, Germany; Valentina Miliukovа, Saint Petersburg; Andrei and Tatyana Penkov, Saint Petersburg; Alexander Andrushchenko, Saint Petersburg; Dr. Harry Blom, Utrecht, Holland; Kolodzei Collection of Russian and Eastern European Art, Kolodzei Art Foundation, USA; Diaghilev Art Foundation, Saint Petersburg.