This article is translated by machine translation, may contain semantic, syntactic and / or grammatical errors..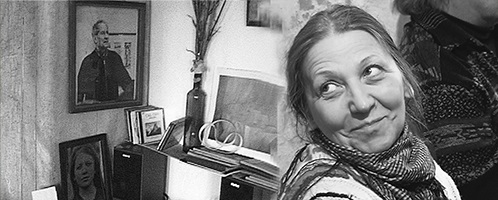 In 1967, finished Krasnoyarsk Art School named after V.I. Surikov. In 1973, graduated from the Institute of Painting, Sculpture and Architecture (INZHSA) named after I.Ye. Repin, Easel Graphics Department. After graduation – assigned to work in Tikhvin where took part in the organization of an art school, and gave classes. In 1981, returned to Leningrad. Engaged in book illustration. 1972 -1985 – participated in exhibitions held in the studio of V.V. Sterligov and T.N. Glebova. 1974 – 1982 – participated in exhibitions of «unofficial» artists of Leningrad. A member of the Russian Union of Artists and the IFA. Lives and works in St. Petersburg.
The artist's works are in the collections of:
The State Tretyakov Gallery, Moscow; the State Museum of the History of St. Petersburg; Directorate of the Association of Museums of the Leningrad region, St. Petersburg; the Arkhangelsk Regional Museum of Fine Arts; the Yaroslavl Art Museum; the Museum of Organic Culture, Kolomna; Central Exhibition Hall «Manege».St. Petersburg; The Museum of Nonconformist Art «Pushkinskaya–10», St. Petersburg; Norton Dodge Collection, Washington, USA; Leonard Hutton Collection, New York, USA; Collection company «NORDEX», Vienna, Austria; Collection of G. and A. Sidorovs family, St. Petersburg. As well as in other private collections in Russia and abroad.