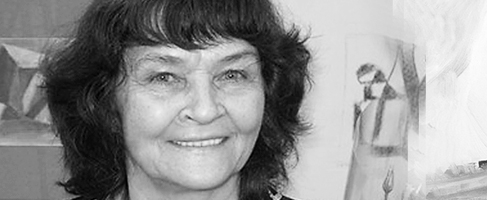 Studied at the Pioneer Palace in the studio of Maria A. Gorokhova. Graduated from Leningrad High Artistic Professional School named after V.l. Mukhina; since 1982, studied under the system of V.V. Sterligov that included study of plastic principles of Impressionism, Cubism, and «Bowl-Dome» system of Sterligov. From 2000 to 2005 represented «Exercitia Spiritualia» course of investigations in the sphere of plastic qualities of paintings based on the traditions of V.V. Sterligov. Lives and works in St. Petersburg.
Member of the Russian Artists' Union, IFA. In 2010, won the gold medal of the exhibition «Cannes Azur, M.C.
A» (Cannes, France).
The artist's works are in the following collections:
State Museum of History of St. Petersburg; Museum of Nonconformist Art, St. Petersburg; Manege Central Exhibition Hall; Museum of St. Petersburg Avant-Garde (House of M.V. Matiushin); Museum of Organic Culture, Kolomna, Russian Federation; Municipality of Valcea, Romania; «Nordex»Concern, Vienna, Austria; «Saturn» Bank, Moscow, Russian Federation; «Museum of Nations» Corporation, Republic of Moldova; Collection of Galina and Anatoly Sidorov, St. Petersburg; Collection of Galina and Felix Chudnovsky, St. Petersburg; Collection of Irina and Victor Ksenzov; Collection of Suren Melikyan, Paris; Collection of Vadim Nechaev, Paris; Collection of Victor Dzodziev, St. Petersburg; and other collections.